New Build Arran 16 9.8hp Tohatsu Electric Start SBS 600B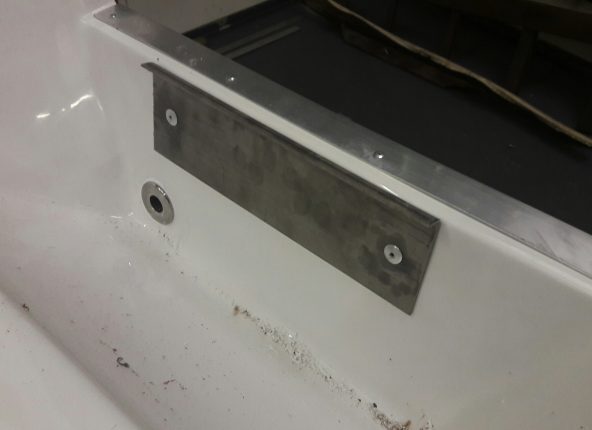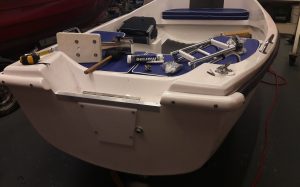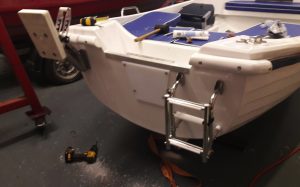 I have just started fitting out a new hull for a customer.
Will keep a photo record of the build as I do it.
Fist stage was the transom plates inner and outer.
The inner plate is 3mm stainless while the outer is 5mm plastic.
I have just started fitting a stainless drain to the splash well rather than the plastic one.
The ladder is bolted on as is the aux engine bracket.
I also have changed the main bung to a brass one from Calisto as you can get a spanner on the end of it if needed.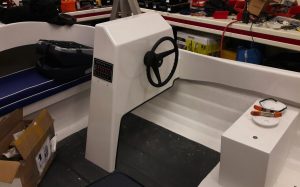 Fitted the console, wheel, helm and steering wheel.
On the side of the console is a fuse panel with buzz bar under it.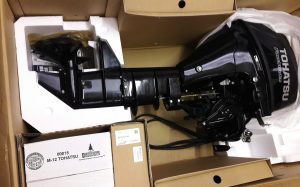 The 9.8hp Tohatsu longshaft electric start engine on remotes arrived today.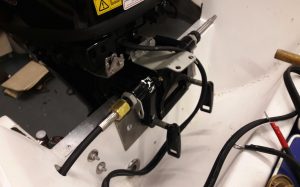 I put it on the transom centred it and bolted in place with two M8 bolts.
The steering cable is put through the tilt tube and the steering arm connected to it.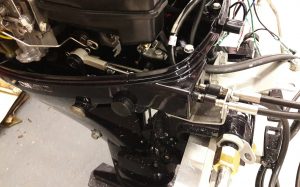 The wiring loom on a Tohatsu remote box is not fitted with a plug to connect to at the engine end.It has to be wired into the fuse panel but its all colour coded so is very easy to do.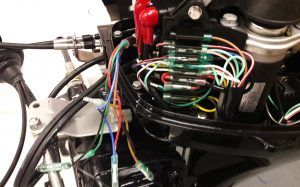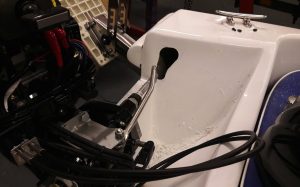 The fuel line is run inside some plastic tubing where it passes through the side of the splash well.This helps protect it from damage and the witches hat makes a neat job of it.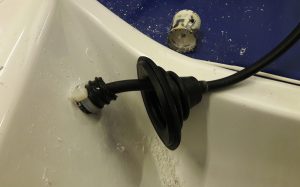 Heres the seat bases been fitted and the box foamed to the top with two pack polyurethane foam.The access hatches will not open once its been foamed.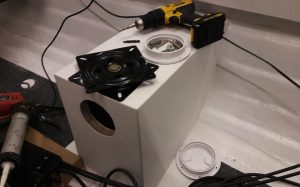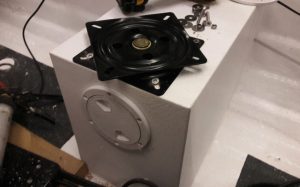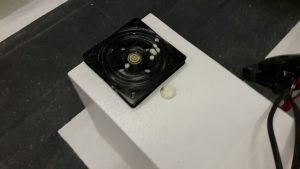 I have covered putting in the windows on another blog before.
It has to be one of the most frustrating things to do.Even with my experience they either take 5mins to fit or an hour to do.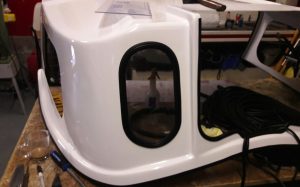 These pics were taken today 6/11/17 and show the boat with the cuddy clipped on and the navigation tri-light in place.It will be finished easily tomorrow the main job remaining been the cover.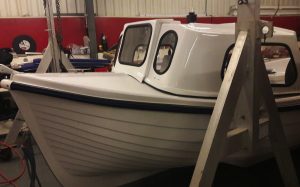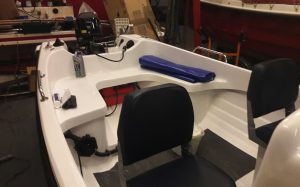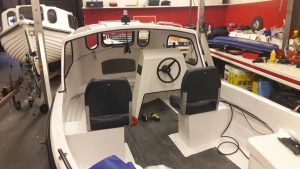 I fitted the cover this morning which brings the build to a completion.The cover is fitted to the cuddy and stern using turn buttons held in place by 4mm dia x 12mm rivets.
The sides are pulled tight using hooks and elastic under the fendering.
Hope you like your new boat Ian.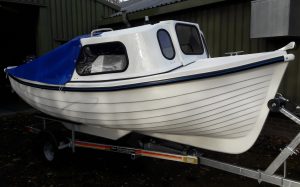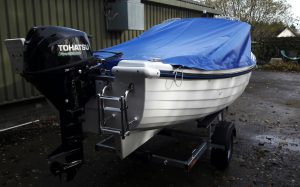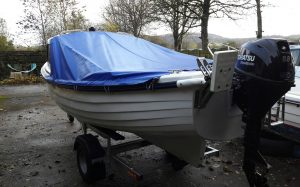 Return to Blog