The Arran 16 has been a familiar sight in harbours and marinas all around the UK for over the past 30years. Inshore fishermen who haul crab and lobster pots for a living, find the stability of the boat hard to beat. The open deck space and economical daily running costs of the Arran 16 make it the ideal small workboat.
Its strength and stability have also made the Arran a firm favorite with hire boat operators. Thousands of visitors to the Lake District and South Coast have hired them to take to the water.
At 16ft in length it's a safe but very manageable size of boat and can be easily towed behind most family cars. It has an excellent safety record and with a CE Cat "C" rating for 4 persons there is room for the family.
The boats have spread far and wide with time and can also be found in Ireland, Denmark, Holland, Germany, France and Malta. I have even received pictures of an Arran that somehow made its way to Africa.
SAFE &
SEAWORTHY

ECONOMICAL
TO RUN

IDEAL FOR
BEGINNERS

VERSATILE,
BESPOKE
LAYOUTS OF THE ARRAN 16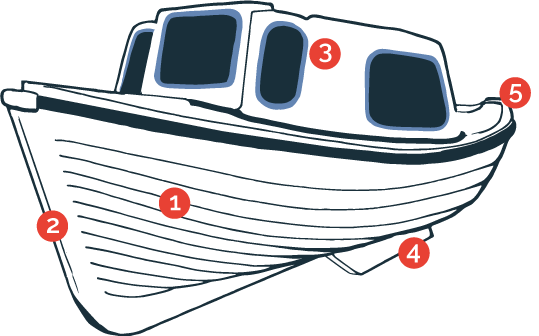 Displacement hull means that the Arran 16 is very safe, stable and economical to run
It has a full length deep centre keel and two deep bilge keels, all protected by 316 stainless steel keel bands
The Removable cuddy is attached to the boat by 5 strong snap latches, again stainless steel. Release these and remove the cuddy, and you have a large open fishing boat... feels like 2 boats for the price of 1!
The unusually large and deep centre and bilge keels on the Arran 16 makes it the ideal trolling boat
The Arran 16 only ever takes a long-shaft engine up to a maximum of 15hp. Cheaper to buy initially, cheaper to service and maintain, and great fuel economy
---
DIESEL TOP VIEW

DIESEL SIDE VIEW

OUTBOARD TOP VIEW
ECONOMICAL TO RUN
Basically small boats fall into two categories: planning hulled and displacement hulled boats (the latter like the Arran 16).
Planning hulled boats need much larger outboard engines typically 50hp upwards to lift them up out of the water onto the plane. This allows them to move faster across and on top of the surface of the water.
The running costs of an Arran 16 are very low due to the small H.P. (horse power) engines required to push a displacement hulled boat along, and through, the water. Displacement hulled boats only require small outboard engines 4 -15hp, as in the case of an Arran 16. This is because it pushes its way through the water and water takes time to move out of the way. The max hull speed is related to the length of the boats waterline. Realistically it simply won't go any faster regardless of the size of engine you put on it.
Most people only have a limited budget to spend on a boat. You can buy a brand new Arran 16 fishing package from me, cheaper than many of the planning hulled boats are secondhand.
This is due to the high price of the 50hp+ engines such boats require to put them up on the plane. There is no doubt that large engines get you to the fishing ground quickly, but only if the weather allows you to open the petrol guzzling throttle. We like to think of boating as an experience and not solely a destination
Most of our freshwater lakes, lochs and rivers have speed limits on them in any case, thus making the Arran the ideal fishing or pleasure boat for inland waterways.
The Arran 16 only ever takes a long-shaft engine up to a maximum of 15hp. These are cheaper to buy initially, cheaper to service and maintain, but best of all the fuel economy on the new 4 stroke engines is staggering.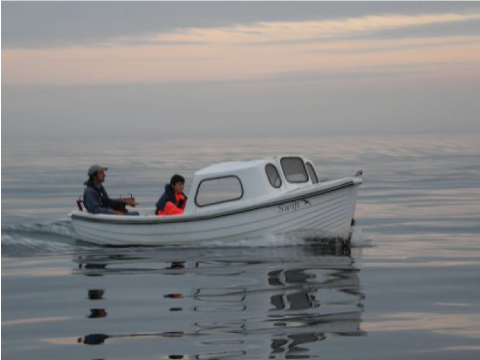 The boat has been in production for over 35 years with the outer hull shape changing little in that time. It has a well proven history right across Europe and an excellent safety record. It will sit flat on the ground or on a dry mooring without tipping over. The boats category "C" class also makes it very safe to use on large inland waters, like Loch Lomond, as well as inshore.
WHAT SEA CONDITIONS CAN YOU
USE THE BOAT IN?
The beaufort scale is a wind/force scale which relates wind speed to observed conditions. Force 6 on the beaufort scale (winds of 25-31mph) produces cat "C" conditions. This is where long waves begin to form, white foam crests are very frequent and some airborne spray is present. The Arran 16 is "CE" rated for 4 persons under these conditions.