PRICE LIST FOR ARRAN 16 AND COMPONENTS
Here you will find a comprehensive price list that allows you to spec. your Arran 16 exactly how you want it. We have also included our Arran 16 Full Package that comes with everything you need to start your journey on the water.
Ordering & Delivery Information can also be found at the bottom of this page.
ARRAN 16: THE FULL PACKAGE
ARRAN 16 OUTBOARD DISPLACEMENT HULLED BOAT
We pride ourselves in offering everything from a plain new open boat to a new complete bespoke package tailored to your own requirements.
Below is a priced example of a typical turnkey package
If there is anything else you would like for your bespoke boat please just ask.
It is often easier to add it during the build stage rather than at a later date.
For example if you choose your own electronic package we will fit it during the build.
The price of a typical example is £14,190.00
It includes boat £7495, cuddy £995, cover £250, roller trailer £1695 and a 9.8hp Tohatsu 4 stroke electric start outboard on remotes £2520.
Price includes 2x swivel seats £295, aux engine bracket £100, 4 x grab rails £160, manual bilge pump £85, steering console helm wheel steering cable battery and box £595.
If you contact us will send you a wish list of all the extras we offer.
Simply complete and return it for a more accurate quote to include any or all of the extras and options we offer.




Any Questions please get in touch
Specification
Weight with Cuddy:
305kg - 670lbs
Recommended Max HP:
11.2KW - 15hp
Like what you see? We'd be grateful if you share this page with anyone else you think would appreciate it too. You can also email a link to this page using the buttons below.
PRICELIST: COMPONENTS & CHANDLERY
We would be delighted to offer you advice on what components will be most suitable for your individual requirements. Often, we can source good quality, second-hand items too. Some boat parts and components require fitting, which we can do for an added cost.
Click on the links below for more information
Coming Soon – Arran 16 Diesel Inboard Boat
I now have the moulds to make the inboard diesel boat.
Will be making one and getting it CE plated in the near future.
Anybody interested please get in touch to discuss.
Standard boat will be supplied with a Beta 14hp twin cylinder engine.
Mercia bunked trailer
£15,995.
Any Questions please get in touch
Engines
The boat is suitable for small tiller steer engines from 4-15h.p. for lake use and 6-15 h.p. for sea use. I recommend the new four stroke engines as they are fuel efficient and very quiet. You pay slightly more for them but you save on fuel and don't need to add two-stroke oil to the petrol.Two Stroke engines are now only available to commercial users.
I have for several years now been fitting the Tohatsu range of 4 stroke engines to both my new and secondhand boats.
The 9.8hp Tohatsu 4 stroke with remotes is a popular choice on the Arran 16 full package.
I also recommend the 3.5hp long-shaft Tohatsu 4 stroke as a backup engine.
If you require a larger Tohatsu engine for your own boat then please enquire.
Engines are supplied with a full manufacturers guarantee in your name and a full Pre-delivery inspection check is done prior to delivery.The PDi and service record are now all registered online direct with Tohatsu
Tohatsu 4 stroke Long-shaft Engine Prices.

3.5hp £795
9.8hp £2,520 on remotes


Please see "For Sale" section for secondhand engines sale.
Any Questions please get in touch
Cuddy
The cuddy, offers protection from the elements and has good visibility through it's five windows. The fitted cuddy on the Arran 16 is fully removable in seconds. It is made from GRP and has a large upward opening forward hatch. This gives easy access to the bow so you can use the anchor safely without having to walk around the front of the boat.
The cuddy is held in place by four quick release lockable catches. With the cuddy removed you have even more open deck space to walk around in.It allows for a fisherman to be at either end of the boat and cast safely. Once you sit underneath the cuddy on the front seat your completely protected from the wind and rain. With a console fitted you can even stand to steer if you prefer and look straight over the top of the cuddy. I highly recommend you get one with the Arran 16 package.
Price: £995.00 includes windows fitted edge trim and 316 stainless cuddy clips.
Any Questions please get in touch
Electric Outboards
Electric Outboard Engines have come a long way in the last few years.
The Torqueedo range of electric outboards are capable of powering an Arran 16.
Small electric 12v outboards can be used as backup engines for trolling or creeping up on fish.
Please feel free to ring or email to discuss electric power.
Any Questions please get in touch
Marine Electronics
The world of marine electronics has changed enormously since the early days of black and white depth sounders.
Colour chart plotters and three D fish finders are now affordable and commonplace on small boats.
New ever improving models are coming out onto the market on a almost daily basis.
The pricing is very competitive so its a marketplace I have never really entered into.
I advise customers to source there own electronics and send them to me during the build process.
Its easy for me to fit them and run the cables during this time rather than at a later date.
At the very least I advise fitting a fish finder, compass and a VHF radio if your going to sea.
If you buy your electronics and send them to me fitting is £20 a unit.
Any Questions please get in touch
Boat Covers
Why not keep your Arran 16 looking ship shape and dry with a fitted open boat cover or tonneau cover.
It helps keeps the rain water and leaves out the boat when its not in use.
The tonneau cover is held in place with turn buckles on the cuddy and hooks and elastics fitted around the sides of the boat.
They are supplied in blue but can be done in other colours to order.
The price of the Tonneau cover for the Arran 16 is £220 and includes all the fittings required.
All you will need is a 4mm drill and a rivet gun which most people have in there tool box.
If you don't want to do it yourself and can bring the boat to me I will happily fit it for you.
The price including fitting is £250
Due to popular demand I can also supply a tonneau boat cover for the early Orkney Longliners.
Its the same price just contact me for details.
£220 inc VAT
£250 inc VAT fitted
Any Questions please get in touch
SBS bunked and roller trailers
SBS 600B bunked trailer £1,350
SBS 600EL roller trailer £1,695
The roller trailer is very easy to launch and recover the boat onto.
Once the keel is located between the rear rollers it simply self guides the boat on.
The price includes a taller adjustable winch post.
Extra front roller.
Extra height rear roller set up.
Spare wheel.
Both trailer come with adjustable winch post winch jockey wheel and lighting board.
As both the trailers are adjustable they are suitable for many other types of boat.
The price for both the roller and bunked trailer is inc VAT.
SBS 600EL £1695
SBS 600B £1350
Any Questions please get in touch
Available Extras
As well as building new boats and refurbishing older Arrans I also supply parts and accessories for you to fit yourself.
Below is a list of some of the parts and extras I do.
Cuddy £995
Steering Console £220
New Hatch £120
Seat cushions set of three £220
Grab Rails £40 each
Bilge Pump Kits £85 manual
Electric bilge pump £130
Fenders £100 for eight
2 x Swivel Seats £295 inc stainless swivel bases fitted.
We can also supply the following for the boat:
Fendering 10 meter; bow protector; stern corner protectors; bow roller; forward cleat; rear cleats; bow U bolt; keel bands; edge trim per meter; window rubber with filler per meter; windows; cuddy clips; wheel, helm, steering cables; aux engine bracket; rowlocks; oars; cuddy hatches; splashwell kit; bungs; inner transom plate; outer transom plate; shift cable bellows; Arran 16 decals; battery box.
Please email or phone me with your requirements.
For a quote please contact me with your list of parts you require.
Any Questions please get in touch
WE ALSO HAVE PRE-OWNED BOATS FOR SALE
We try to offer our customers a secondhand alternative to buying a new boat. This can be difficult however with Arrans, as they are hard to find. The problem is that once you have owned one you will not want to sell it!
SELL TO US
As well as manufacturing new boats Arran Boat Sales also buys and sells secondhand Arran 16s.
If you are considering selling your boat or want to part exchange it against a new one then please ring or better still email us. We will ask for some recent pictures so your boat can be easily and accurately valued. Regardless of the boats age or condition we will take a look at it for you.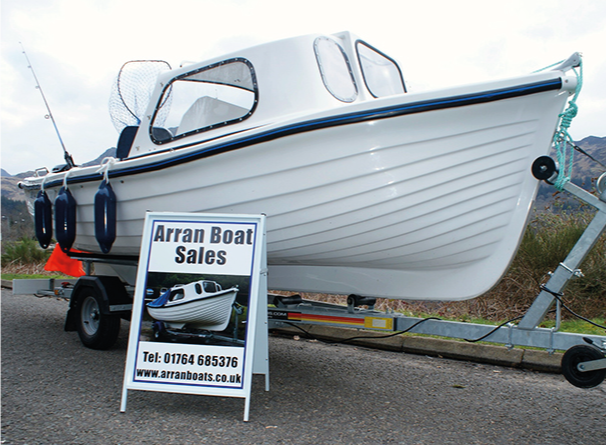 ORDERING AND DELIVERY
ORDERING
Ordering can be done by letter, telephone or e-mail, at which time you can discuss your requirements. I will confirm the price in writing or via e-mail and on receipt of the deposit I will put the package together for you.
PAYMENT
The non-returnable deposit is 25% of the full order price of the boat or package, payable by bank transfer, bankers draft,cash or cheque at the time of ordering. If I have a boat ready which suits your requirements you can pay in full and have it straight away. The balance is due just prior to delivery by the same method of payment.
UK BOAT DELIVERY
We have been delivering and collected boats all over the country and beyond for the past 15 years. If you have never towed a trailer before or are nervous about doing so then why not have it delivered direct to your door. While you will need to learn to tow the boat it is not a good idea for your first experience to be a very long journey of 100 miles or so.
Many of our customers are from the Scottish Isles of Skye, Harris, Lewis, Orkney and the Shetlands. These deliveries often involve driving long distances a ferry trip and even sometimes an overnight stay. We are prepared to accompany the boat all the way to your door, meet halfway or drop it at a ferry port for you. Delivery is normally £1 a mile measured from the factory to you plus any ferry or toll charges involved. Please enquire for a quote.
INTERNATIONAL SALES
Arran Boat Sales have international freight transport company's who can transport your boat almost anywhere in the world. Please enquire for a quote.
BOAT COLLECTION
Comrie in Perthshire, Scotland on the banks of River Earn is the home of Arran Boat Sales. It really is a stunning picturesque place to visit. I spend my down time fishing on the local Loch for trout surrounded by wildlife.
Like what you see? We'd be grateful if you share this page with anyone else you think would appreciate it too. You can also email a link to this page using the buttons below.