BOATS & CHANDLERY FOR SALE
What we have For Sale, right now.
Ordering & Delivery Information can also be found at the bottom of this page.
Haven't found what you're looking for?
As well as manufacturing new boats, Arran Boat Sales also buys and sells second-hand Arran 16s, as well as specialising in the small towable Orkney models such as the Day Angler and Orkney Spinner. Whatever you need, get in touch and we might be able to source it.
ORDERING AND DELIVERY
ORDERING
Ordering can be done by letter, telephone or e-mail, at which time you can discuss your requirements. I will confirm the price in writing or via e-mail and on receipt of the deposit I will put the package together for you.
PAYMENT
The non-returnable deposit is 25% of the full order price of the boat or package, payable by bank transfer, bankers draft,cash or cheque at the time of ordering. If I have a boat ready which suits your requirements you can pay in full and have it straight away. The balance is due just prior to delivery by the same method of payment.
UK BOAT DELIVERY
We have been delivering and collected boats all over the country and beyond for the past 20 years. If you have never towed a trailer before or are nervous about doing so then why not have it delivered direct to your door. While you will need to learn to tow the boat it is not a good idea for your first experience to be a very long journey of 100 miles or so.
Many of our customers are from the Scottish Isles of Skye, Harris, Lewis, Orkney and the Shetlands etc. These deliveries often involve driving long distances a ferry trip and even sometimes an overnight stay. We are prepared to accompany the boat all the way to your door, meet halfway or drop it at a ferry port for you. Delivery is normally £1 a mile measured from the factory to you plus any ferry or toll charges involved. Please enquire for a quote.
INTERNATIONAL SALES
Arran Boat Sales have international freight transport companies who can transport your boat almost anywhere in the world. Please enquire for a quote.
BOAT COLLECTION
Comrie in Perthshire, Scotland on the banks of river Earn is the home of Arran Boat Sales. It really is a stunning picturesque place to visit. I spend my down time fishing on the local Loch for trout surrounded by wildlife.
There are two hotels in the village The Royal Hotel and the Comrie Hotel as well as numerous B & Bs. Why not come to collect your boat? You can visit the village, stay locally and even try your new boat on the Loch. If you are new to boating or simply want some help and advice we can even show you the ropes. We have had customers from Holland and Germany come and do just that.
For more information on where to stay and visit please give us a call.
ARRAN BOATS BROKERAGE SERVICE
We try to offer our customers a secondhand alternative to buying a new boat. This can be difficult however with Arrans, as they are hard to find. The problem is that once you have owned one you will not want to sell it!
As an alternative to an Arran I recommend and sell secondhand Dell Quay Fisher 15's, the Shetland 16 and the Robert Ives Fisher 15. These boats are no longer in production but plenty still exist due to the heavy build quality. We also specialize in the small towable Orkney models such as the Day Angler and Orkney Spinner.
If there is a particular boat not shown you are looking for please feel free to contact us. It may have just arrived and not yet on the stock list or I might know where there is one.
SELL TO US
As well as manufacturing new boats Arran Boat Sales also buys and sells secondhand Arran 16s.
If you are considering selling your boat or want to part exchange it against a new one then please ring or better still email us. We will ask for some recent pictures so your boat can be easily and accurately valued. Regardless of the boats age or condition we will take a look at it for you.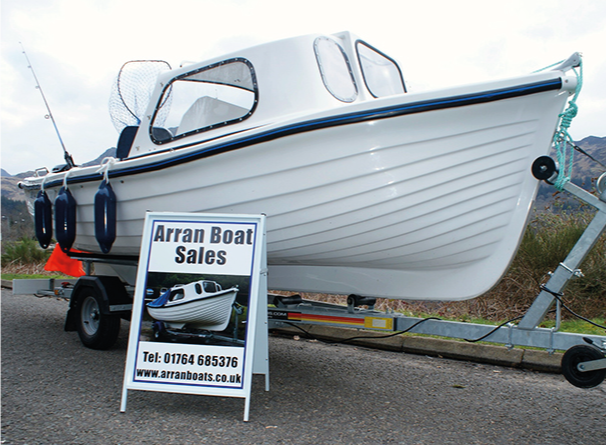 Like what you see? We'd be grateful if you share this page with anyone else you think would appreciate it too. You can also email a link to this page using the buttons below.