WELCOME TO ARRAN BOAT SALES
Let me introduce myself. My name is Dave Naitby and together with my wife Kay we operate Arran Boat Sales based in Perthshire, Scotland. Our business is manufacturing and selling the Arran 16 GRP small displacement hulled boat, selling secondhand boats, and refurbishing clients' boats. We believe we offer a very personal bespoke boat business, with each boat tailored to your exact requirements.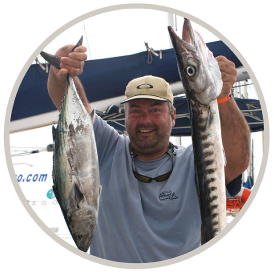 My passions in life are fishing and boating and as a result I have owned almost every type of secondhand small boat over the years from 12 - 22ft in length. It wasn't however until 2001 that I took the plunge and bought my first NEW boat an Arran 16 to use as my own fishing boat. After my first trip I was hooked and so impressed that I wanted to get involved with these great little boats.
I became the sole UK Arran dealer in 2001, and in October 2005 I bought the manufacturing side of the business when the previous owner retired. We moved home to Scotland in 2006 where the boats are now manufactured.
Kay also owned St Fillans Boat Hire on Loch Earn where tourists and fisherman alike could hire an Arran 16 and take safely to the water.
This allowed us to introduce hundreds of families, mainly complete novices to the pleasures of boating. Several of the customers were so impressed with their boating experience they even bought an Arran boat as a result.
Both Kay and I pride ourselves in our customer service. Our advice is friendly and free so if you have a question no matter how simple - just ask. We look forward to hearing from you in the future.