BOATS & CHANDLERY FOR SALE
What we have For Sale, right now.
Ordering & Delivery Information can also be found at the bottom of this page.
New Arran 16 Open Boat Package
Open Boat Package,

New Arran 16 open boat for sale £5495.
Price includes 316 stainless steel bilge and keel bands, bow roller, large fore deck cleat, rear aft cleats, fendering, bow and rear corner protectors,inner and outer transom plates, and seat boxes.
Boat: £5,495
Trailer: £1,180
Engine: £2,005

Total Price £8,680
Included in package:
9.8hp 4 stroke longshaft Tohatsu tiller steer electric start engine.
SBS Bunked 600B trailer
Any questions please get in touch
Specification
Year of Manufacture:
2017
New Arran 16 Full Package
Arran 16 Outboard version, full turnkey 'boat, trailer, engine and accessory' package
Total Price £10,995.00
Included in package:
Boat, Cuddy, Cover, 2 x swivel seats, 4 x grab rails, Cushion set.
Tohatsu 9.8hp 4 stroke electric start longshaft engine on full remotes.
Price includes Steering Console, wheel and helm,4 x Grab Rails, Battery and Box all fully fitted.
SBS 600EL Adjustable Trailer.
Any questions please get in touch
Specification
Year of Manufacture:
2017
Arran 16 Front and Rear Cushion Set
Three part cushion set for the Arran 16.
These will fit both the outboard and diesel inboard boat.
The forward seat is covered by one cushion and the rear by two cushions.
Available in blue with white piping.
£220
Included in package:
Cushions x 3
Any questions please get in touch
Arran 16 + Orkney Longliner Steering Console Sets
Steering Console for the Arran 16 which also fits an Orkney Longliner.
Console £220
4m Cable £90
Helm £50
Wheel £20
£380
Included in package:
Console, Cable, Helm, Wheel
Any questions please get in touch
SBS 600B and SBS 600EL 2018 prices
New SBS600B Bunked trailer
New SBS600EL Roller Trailer
New SBS750B Bunked Trailer
New SBS750EL Roller Trailer

The above trailers are adapted for use with an Arran 16 at the point of manufacture.
I put the Arran 16 outboard boat on either the SBS 600B or the SBS 600EL trailer.
Due to the extra weight of the diesel boat its supplied on the SBS 750B
SBS have just put the price of the trailer up across the range for 2018.
Standard SBS 600B £1030 plus £150=£1180
Standard SBS 750B £1120 plus £150=1270
Standard SBS 600EL £1325 plus £150=£1475
Standard SBS 750EL £1395 plus £150=£1545

The £150 more than the standard trailers covers the cost of a spare wheel, the adjustable winch post, extra front roller and transport from the SBS factory to my unit in Comrie.
Included in package:
Spare wheel, lighting board, adjustable winch post.
Any questions please get in touch
Orkney Fastliner 19 bunked trailer Yamaha 40hp 2 stroke outboard.
Took this in part exchange an Orkney Fastliner 19 with 40hp 2 stroke Yamaha outboard.
Its on a bunked trailer with new bearings and brake shoes.

I have not had time to do anything to it other than check the engine over
The engine runs great and the previous owner assures me its 100% reliable.
There is a fish finder ,chart plotter, nav lights, bilge pump, anchor chain rope, and aux engine bracket.
Any questions feel free to ask.
£5,500 Open to offers
Included in package:
Boat cuddy cover trailer 40hp electric start 40hp 2 stroke Yamahs.
Any questions please get in touch
Vimar Aquarius 14ft Fishing Boat
Vimar Aquarius 14 ft fishing boat.
Carrying Capacity 5 persons 430kg
Length 4.26m (14 ft) beam 1.75m weight 150kg
Takes a max 6hp longshaft engine.
Boat only no trailer or engine at present

£1200
Included in package:
Boat only
Any questions please get in touch
2008 15hp electric start longshaft Mariner outboard on remotes.light freshwater use only
2008 Mariner 15hp, 4 stroke, electric start, longshaft, manual tilt , outboard.
Light freshwater use only on an Arran 16.
Comes with tank and line remote control box and 13ft cables.

£1,500
Included in package:
Tank and line
Remote control box and 13ft cables.
Any questions please get in touch
Salcombe Flyer 440 boat 50hp two stroke Mariner new SBS 600B trailer
Salcombe Flyer 440 in very good condition.
Powered by a 50hp two stroke oil injected electric start two stroke Mariner with power tilt.
Comers with GPS and fish finder bilge bump aux engine bracket(no aux engine).
The forward two seats and bench can be lifted out to give more open deck space.
I have just put it on a new SBS 600B trailer with winch jockey wheel and lighting board.

£4995.
Any questions please get in touch
Arran 16 with 9.9hp 4 stroke Suzuki on remotes
Pre 2000 Arran 16 with cuddy and cover.
Fitted with bilge pump aux engine bracket fish finder and grab rails.

Powered by Suzuki 15hp longshaft 4 stroke electric start engine on remotes.

Presently sat on a launching trailer which needs some work for use on a road.

Its just come off Loch Earn so needs a clean.
Will add the pictures once this has been done

£4500 ONO
Included in package:
boat, cuddy, cover, trailer, engine, aux engine bracket fish finder, bilge pump and trailer.
Any questions please get in touch
Suzuki 15hp longshaft 4 stroke tiller steer manual start outboard engine.
Engines in good condition pumps water well and has a good prop.

£1250
Included in package:
Engine fuel tank and line
Any questions please get in touch
Haven't found what you're looking for?
As well as manufacturing new boats, Arran Boat Sales also buys and sells second-hand Arran 16s, as well as specialising in the small towable Orkney models such as the Day Angler and Orkney Spinner. Whatever you need, get in touch and we might be able to source it.
ORDERING AND DELIVERY
ORDERING
Ordering can be done by letter, telephone or e-mail, at which time you can discuss your requirements. I will confirm the price in writing or via e-mail and on receipt of the deposit I will put the package together for you.
PAYMENT
The non-returnable deposit is 25% of the full order price of the boat or package, payable by bank transfer, bankers draft,cash or cheque at the time of ordering. If I have a boat ready which suits your requirements you can pay in full and have it straight away. The balance is due just prior to delivery by the same method of payment.
UK BOAT DELIVERY
We have been delivering and collected boats all over the country and beyond for the past 15 years. If you have never towed a trailer before or are nervous about doing so then why not have it delivered direct to your door. While you will need to learn to tow the boat it is not a good idea for your first experience to be a very long journey of 100 miles or so.
Many of our customers are from the Scottish Isles of Skye, Harris, Lewis, Orkney and the Shetlands. These deliveries often involve driving long distances a ferry trip and even sometimes an overnight stay. We are prepared to accompany the boat all the way to your door, meet halfway or drop it at a ferry port for you. Delivery is normally £1 a mile measured from the factory to you plus any ferry or toll charges involved. Please enquire for a quote.
INTERNATIONAL SALES
Arran Boat Sales have international freight transport company's who can transport your boat almost anywhere in the world. Please enquire for a quote.
BOAT COLLECTION
St Fillans in Perthshire, Scotland on the banks of Loch Earn is the home of Arran Boat Sales. It really is a stunning picturesque place to visit. I spend my down time fishing on the Loch for trout surrounded by wildlife.
There are two hotels in the village The Achray House Hotel and the Four Seasons Hotel as well as a fantastic new B&B Name of B&B with stunning views. Why not come to collect your boat? You can visit the village, stay locally and even try your new boat on the Loch. If you are new to boating or simply want some help and advice we can even show you the ropes. We have had customers from Holland and Germany come and do just that.
Please visit the link to the village web site for further information on where to stay.
www.stfillanscc.org.uk
ARRAN BOATS BROKERAGE SERVICE
We try to offer our customers a secondhand alternative to buying a new boat. This can be difficult however with Arrans, as they are hard to find. The problem is that once you have owned one you will not want to sell it!
As an alternative to an Arran I recommend and sell secondhand Dell Quay Fisher 15's, the Shetland 16 and the Robert Ives Fisher 15. These boats are no longer in production but plenty still exist due to the heavy build quality. We also specialize in the small towable Orkney models such as the Day Angler and Orkney Spinner.
If there is a particular boat not shown you are looking for please feel free to contact us. It may have just arrived and not yet on the stock list or I might know where there is one.
SELL TO US
As well as manufacturing new boats Arran Boat Sales also buys and sells secondhand Arran 16s.
If you are considering selling your boat or want to part exchange it against a new one then please ring or better still email us. We will ask for some recent pictures so your boat can be easily and accurately valued. Regardless of the boats age or condition we will take a look at it for you.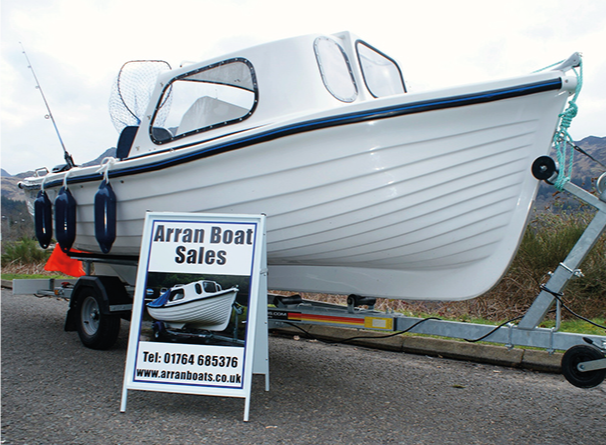 Like what you see? We'd be grateful if you share this page with anyone else you think would appreciate it too. You can also email a link to this page using the buttons below.